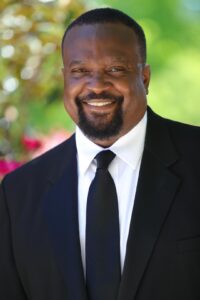 Alan D. Benson is the Founder and President of Benson Group, a company that offers Workforce Training, Human Resources Management, and Organizational Development services. He has been afforded various experiences, and he brings more than 30 years of experience in the areas of Operations Management, Training and Development, and Education. He has empowered and managed teams to achieve company goals, created personal and professional growth plans for employees, facilitated trainings, and developed systems to streamline operations that increase profits for major corporations and service for non-profit organizations.
Alan is experienced and passionate about helping others reach their true potential, live a purposeful life, and pursue their education goals. He has personally coached individuals and presented throughout the United States on various business topics and concerns. He is a former Advisory Board Member of the University of Louisville College of Business Ulmer Career Center and was appointed by former Commonwealth of Kentucky Governor Patton to the Early Childhood Development Authority. He most recently served as a Board Member of the Metropolitan Development Business Corporation and an Adjunct Professor at Simmons College of Kentucky. 
Alan believes every experience and every opportunity in life helps to shape our true identity, attitude, and journey and that it is up to us to recognize the reasoning for those experiences, learn how to assemble them, and apply them to our purpose in life. This belief is his driving force in Benson Group's goal to equip individuals and companies to reach their true potential and business goals.
Alan has written five self-help books: Stand Up! A Message to the Black Man; Keep That Seat Hot; and Her Hair is Her Crown of Glory. Stand Up! is a book that uplifts the accomplishments of Black Men, and further lists steps to set them on the course to becoming the best they can be in their lives, careers, families and communities. Both Keep That Seat Hot and Her Hair is Her Crown of Glory teach the principles of operating and sustaining a business in the barbering and beauty industries.
Alan earned a Bachelor of Science degree in Political Science and a Master of Public Administration degree from the University of Louisville. He later earned a Master of Business Administration degree from Indiana University. He served in the United States Marine Corps Reserves and is a Persian Gulf War veteran. He has twins, Hilton, and Hayley, and resides in Louisville, Kentucky.