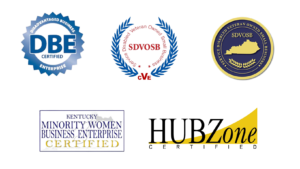 Benson Group is a Service-Disabled Veteran Owned Small Business and was founded in 2009 by Alan D. Benson. It provides consulting services in the areas of Workforce Training & Development, Organizational Development, and Human Resources Management. Its objective is to equip and empower companies to maximize their human capital and organizational effectiveness, and coach individuals to reach their career and life goals. Benson Group's goals are:
To equip companies with streamlined processes and strategies so that they are operationally efficient, and to position their companies to be brand recognizable.

Develop systems to improve employee training, productivity, innovation, and loyalty. 

Train and develop individuals to be results-oriented and career-oriented, competitive, alert, and focused.   
Benson Group takes a deliberate approach to learn your company so that it can provide executable solutions and deliver excellent service.  At Benson Group we will work with you from start to finish, and that is our promise! 
Core Competencies
Workforce Training & Development

Professional Recruitment

Human Resources Management

Project Management

Supplier Diversity Management

Government Policy & Compliance Monitoring

Business & Career Coaching

 Resume Analysis & Development

MicroLearning & eLearning

 Nonprofit Development & Analysis

Organizational Development
Differentiators
Customized services tailored to a company's needs

We empower businesses by developing the right Innovative solutions & strategies

We partner with you and create a company specific strategy that maximizes your employment policies, procedures, and processes

We provide comprehensive training & development Services for your workforce

Our experience & knowledge of the current business market will give your company a competitive edge

We provide a FREE consultation to our potential clients
Past Performances
Psalms Transport, LLC: Operations Management Consulting
Commonwealth of Kentucky Department of Transportation: Title VI & VII Workforce & Workplace Conduct Training
Louisville Regional Airport Authority: Workforce Training, Sexual Harassment
Grupo Antolin Primera: Workforce Training, Diversity & Inclusion
Metro Louisville Government: Workforce Training Series & Business Coaching and Business Plan Development eLearning Course Development
US Department of Agriculture USDA) Office of Partnership & Public Engagement: Career Exploration Seminar to Kentucky State University students
Company Data
DUNS: 967366811   CAGE: 6FX87    SAMS: ACTIVE
NAICS:
541612 Human Resources Consulting Services
561311 Employment Placement Agencies
561312 Executive Search Services
611430 Professional and Management Development Training