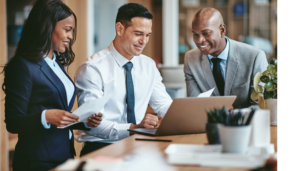 At Benson Group, we are committed to professional excellence and upholding our core values of honesty, integrity, customer satisfaction, social responsibility, and diversity. Our mission is to equip every business and person to be in a better place in business and life by streamlining processes, creating brand recognition, and developing systems for employee productivity and loyalty.
We offer a wide range of services for both businesses and individuals alike. Our business services, such as workforce training and development, organizational development, and human resources management, help businesses maximize efficiency by creating strong structures that increase overall performance.
BUSINESS SERVICES
Workforce training and development, organizational development, and human resources management are important investments that can lead to lasting success for businesses. These practices help a business to:
Identify current strengths and weaknesses and provide insight into potential areas of improvement potential.
Encourage employee growth in evolving job markets.
Enhance communication both within the workplace and outside to customers and other external partners.
Additionally, workforce training and development, organizational development, and human resources management help create strong structures that promote overall performance within the organization by ensuring alignment with vision and goals. Implementing such practices will allow employers to stay ahead of the competition while cultivating an optimal working environment for all those involved.
INDIVIDUAL SERVICES
We are also passionate about helping individual professionals reach their full potential by providing knowledgeable advice across any career path – from our Career Coaching to Resume Analysis and Development services. No matter the need, our individual services are fully equipped with the highest standard of professional knowledge to get our clients where they should be.
Career Coaching and Resume Analysis and Development Services
Through investing in our Career Coaching and Resume Analysis and Development services, it will help you take control of your career. It can provide added clarity, focus, drive, and direction to your professional goals – no matter where you are in your career journey. We coach you and give you guidance on how to best talk about yourself and coach you on how to distinguish yourself during job interviews and networking opportunities.
Resume Analysis and Development Services
Our Professional Resume Analysis and Development service is invaluable for presenting an up-to-date version of yourself; helping potential employers understand how you will add value to their team.
With our Professional Coaching and CV Consulting, you can increase your career opportunities, achieve sustainable job satisfaction, maximize earning potential, differentiate yourself from others in the same field, gain better visibility within professional groups, and build meaningful connections with the right people.
If you are looking to take your business or career to the next level, contact Benson Group today. Through their business coaching services, they will teach you the key strategies to increase profitability in your organization. Their individualized coaching and resume services are tailored to propel your success. Or if you are an applicant searching for a job, they will help you craft an outstanding resume that will open a plethora of opportunities. Many have used their services and have seen positive results in achieving their goals. With Benson Group's one-of-a-kind approach, contact them today and start realizing the potential of your business or career!